As a broad coalition of agricultural stakeholders, we have articulated a plan to:
direct resources to keep farmers and ranchers economically viable,
mobilize local food production to address immediate community feeding needs,
contribute significantly to Hawaiʻi's economic recovery,
build lasting capacity to grow a more resilient and equitable food system for Hawaiʻi.
Our plan for agriculture tracks the three phases of the State of Hawaiʻiʻs Recovery Navigator:
Stabilization: Address the immediate economic needs of Hawaiʻi's producers and ensure community food security.
Reopening & Recovery: Promote new markets and invest in critical infrastructure so producers can efficiently pivot to new wholesale and retail opportunities while restoring Hawaiʻi's food system.
Resilience: Build a resilient food and agricultural economy with strong businesses, job growth, food secure households, robust networks, food system planning, and food safety.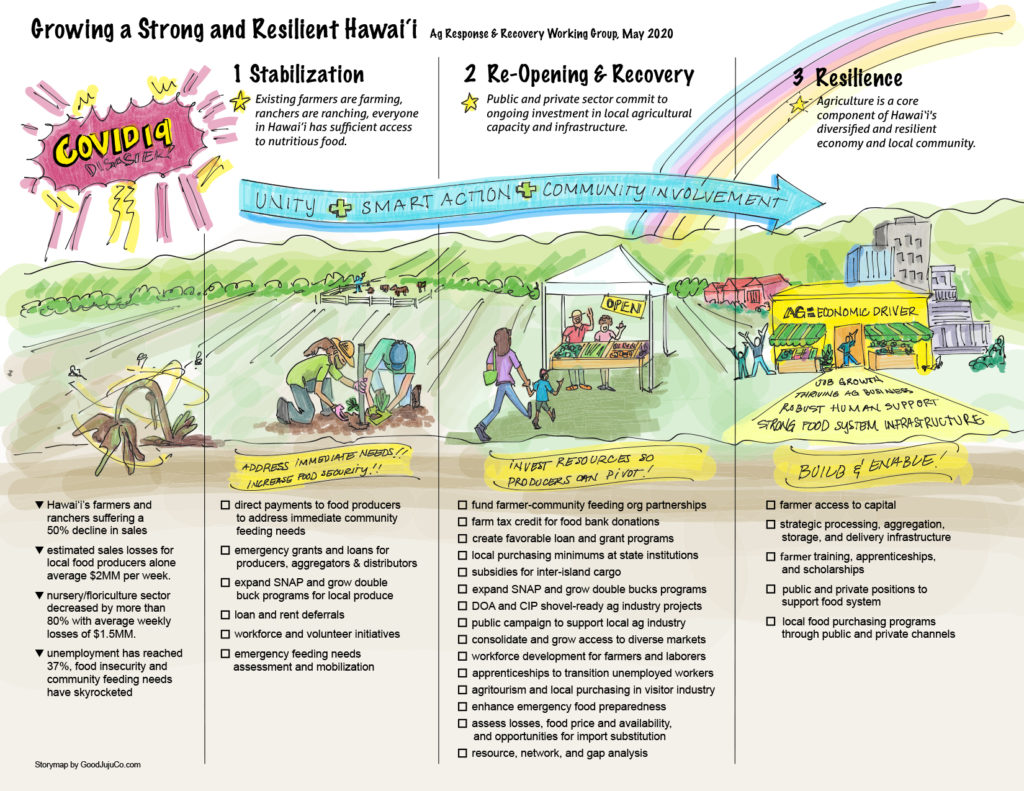 Details for this plan are found in the attached matrix, which outlines a set of food and agricultural initiatives to support Hawaiʻi's economic, social, cultural, and ecological vitality.
Recommendation Matrix
CATEGORY
Phase 1 Stabilization
Phase 2a Reopening
Phase 2b Recovery
Phase 3 Resilience
DIRECT PRODUCER SUPPORT

Staying Afloat
Create a Food Security Subsidy Fund/Program to directly fund local food producers that provide food to the community through local non-profits that provide free or discounted fresh produce or prepared meals.
DIRECT PRODUCER SUPPORT

Getting Back to Business
Official statement supporting and re-opening of farmers' markets across the State that comply with health restrictions to protect vendors and customers.(1)

Allow plant nurseries to continue operations under appropriate protective health restrictions, or to conduct sales via curbside pickup or by delivery.(2)
Invest in public campaigns to highlight the importance of supporting the local agricultural industry.

Build on crisis-driven consumer interest in local food. Consolidate gains of local producers with new markets, including direct to consumer channels, such as farmers markets and CSAs, food banks, and institutional buyers.
Continue building local producer access to a diversity of channels, including consumer outlets like farmers markets and CSAs, food banks, institutional buyers, and re-emerging visitor industry.
DIRECT PRODUCER SUPPORT

Loans & Investment
Loan forgiveness/forbearance to give farmers, ranchers, and floriculturists a window to adjust their operations. A suggested strategy is a 6 month period with an option to renew for an additional 6 months. This includes loans with HDOA, USDA agencies, and others.

Increase funding for HDOA's loan program.
Availability of philanthropic and low interest rate loans for agricultural producers.
Availability of philanthropic and low interest rate loans for agricultural producers.
Ensure sufficient capital and ease of access for agricultural producers to scale operations. (3)

Encourage investment in agriculture using tools such as Investment Tax Credits, Family Farm Tax Breaks, Agriculture Workforce Housing Tax Credits, and Donated Agricultural Products Transportation Credit, and Energy Conservation Financial Assistance and Incentive Programs
DIRECT PRODUCER SUPPORT

Grants
Micro-grants for up to $50,000, depending on need and the scale of the applicant's operations.

Provide direct funding to local producers, including floriculturists, for farm inputs and other production costs that include, but are not limited to, feed, water fees, land lease/rents, energy costs, and transportation costs.
Grants to support direct food distribution strategies for increasing the targeting of produce to individual consumers.
Incentivize the adoption of conservation farming practices through enhanced support for conservation planning, organic certification, and EQUIP-related practices.

Enact Payment for Ecosystem Services Program (PES) for Hawaii farmers, thus tying incentives for conservation farming practices to state sustainability goals.
Provide carbon off set support to producers putting carbon back into the soils with their farming practices.

Rebuild the vitality of our soils through cover crop conservation initiatives. Create a cover crop seed industry on state agricultural lands. Develop on farm demonstration program to implement cover crop strategies.
DIRECT PRODUCER SUPPORT

Cost Reduction
Elimination, reduction, or deferral of payments owed to State/County agencies for land, water, irrigation, GET taxes, and facility leases and licenses.
Subsidize inter-island transportation for livestock and crops from neighbor islands to Oahu.
DIRECT PRODUCER SUPPORT

Livestock
Grants to incentivize the donation of food waste to local livestock farmers for feed.

Subsidies for inter-island transportation costs and for livestock feed supplies disrupted during the shutdown.
Incentivize and support livestock production for local markets and support small livestock producers through market access, forage and feed development resources, and technical support.
Invest in modernization and expansion of existing livestock processing capacity on each island, including small animal processing.
Maintain livestock processing capacity on each island.
CAPACITY BUILDING

Community Feeding
Fund community organizations to purchase locally produced food to meet community feeding needs.

Activate FEMA resources.

Increase allocation for Double-Up Bucks to all Hawaii SNAP households.
Fund community organizations to purchase locally produced food to meet community feeding needs.
Fund community organizations to purchase locally produced food to meet community feeding needs.

Create farm tax credit for donations to food banks.
Fund community organizations to purchase locally produced food to meet community feeding needs.

Establish/maintain funding for Food Access Coordinators on each island.
CAPACITY BUILDING

Technical Assistance
Provide/fund technical assistance to access federal supports (e.g., grants, loans, reimbursement of transportation cost payment program, etc.).
Increase support to public and private sector partners to provide technical assistance to producers.
CAPACITY BUILDING

Purchasing
SNAP expansion: increase support for SNAP Double Up Food Bucks local food purchasing program; make SNAP application process less onerous.
SNAP expansion: continue efforts from phase 1; support and encourage grocers and others who sell directly to consumers to offer SNAP and double bucks for local produce; provide assistance to upgrade payment system and overcome other barriers.
Coordinate with visitor industry to increase demand and purchasing of local, sustainable, and cultural foods.
Develop and implement local "Good Food Purchasing" program to encourage state institution purchasing, including setting of goals, development of mandates, and use of contracting tools.
CAPACITY BUILDING

Workforce Development
Facilitate volunteer support on farms, including gleaners to harvest for donation.
Align with Hawaii 2.0 economic diversification. Support and expand training programs and apprenticeships, for both farm owners and laborers. Transition unemployed into agriculture.
Incentivize youth to enter higher education tracking students into food and agriculture careers emphasizing food system resilience and disaster preparedness via scholarships, stipends, etc.

Fund scaling of training and apprenticeship programs to multiple sites on each island. Scale related incubation programs and launch new enterprises into enterprises and cooperative businesses.

Build justice and equity priorities into state agricultural programs (e.g. California Farmer Equity Act).
CAPACITY BUILDING

Marketing, Aggregation & Distribution
Grants to Organizations Facilitating Direct Farm to Consumer Delivery. Help to secure additional labor and infrastructure, including transportation, cold storage, leases and utilities, etc.
Support, strengthen and expand existing food hubs, aggregators, and distributors and marketing services for Hawai'i's farmers to gain entry into new markets.
Expand role of agritourism in Hawaiʻi 2.0 visitor industry. Provide training programs for farmers to diversify into agritourism as appropriate.
Create regular state support for food hubs, aggregators, and distributors so they can help facilitate local food for public programs.
CAPACITY BUILDING

Data & Analysis
Needs Assessment: determine emergency feeding requirements statewide, what can be sourced locally, and how expansion take place
Assess impact and losses by sector.

Assess greatest opportunities for import substitution.
Fund tools to assess food price and availability.

Conduct an agricultural sector social network analysis to understand resources and connection gaps
Identify, assess, and measure key food system vulnerabilities with respect to pandemics, severe weather events and longer-term climate change impacts on critical infrastructure.

Utilize data to inform the development of a State Food Policy and food system resilience planning process. Develop key criteria and metrics for tracking food system resilience via the HGG/Aloha+ Dashboard.
CAPACITY BUILDING

Preparation & Mitigation
Develop comprehensive outreach, education and financial incentive programs to achieve the recommended 14-day supply of food and water for target % of Hawaii residents.
Fund and position complementary professional food system sustainability and resilience human Resource Staff Across the State of Hawaii: Island Food Access Coordinators (modeled after Hawaii County); emergency food planner at HIEMA; food system planner in the State of Hawaii Office of Planning; food system planner in the City and County of Honolulu Office of Climate Change, Sustainability and Resiliency;

Fund endowment for UH undergraduate and graduates student scholarship program in the area of Food System Resilience and Disaster Preparedness.
INFRASTRUCTURE

Facilities
Allow use of state and other underutilized facilities, kitchens, and cold storage, to support community food programs.
Inventory existing facilities, assess capacity/utilization and need for facilities.

Repurpose and refurbish underutilized facilities to serve food producer, processor, aggregator, and distributor needs.
Fund State DOA and other CIP shovel ready projects that support the ag industry, including the Oahu feed mill, Kamuela Vacuum Cooling Plant, etc.
Fund CIP GIAs that support agricultural producers statewide, including food hub/aggregation site development, cold storage, packaging and processing, livestock harvesting, and delivery services.

Relocate/build commercial food storage facilities outside of known storm surge/inundation zones (e.g., 1-2 m tsunami, category 3 hurricane storm surge and/or 1-2 m sea-level rise).

Incentivize commercial food distributors to hold larger volumes of non-perishable, staple, and emergency foods on each island via PPPs.

Articulate emergency food plans involving commercial food distributors and city, county, state, and federal Emergency Management Agencies through PPPs.
INFRASTRUCTURE

Irrigation
Fund irrigation projects, including work in East Maui, Galbraith, Kahuku, Molokai, Waimanalo, Waimea, Honokaa-Paauilo, and Waiahole
FEDERAL PROGRAMS
Influence the USDA to increase support for (a) grant, loan, and reimbursement programs within FSA and RD, and technical assistance services to support access to government programs; and (b) Agricultural Research Services, including the Pacific Basin Agricultural Research Center in Hilo.
Grow resources for the specialty crop block grant given our unique farm geography, demography, and culture.

Increase funding for the Reimbursement Transportation Cost Payment (RTCP) Program. As Hawaii's producers innovate new markets to recover from the COVID pandemic, this program will become increasingly important.
Modify SNAP payment rules to allow food banks and hubs to retain SNAP information for SNAP customers.

Work with USDA to develop rules for the new micro-grants for Food Security Program (2018 Farm Bill).

USDA-RD grants - redesign to aid development for all (including small) producers. USDA-NRCS ex. EQIP - tweak terms to allow more money to go to the producer for a wider range of uses. More food system type programs such as FMPP, LFPP, and producer-oriented grants such as REAP and VAPG.
Build in flexibility to ensure applicability of federal programs for Hawaii producers, given unique seasonality and geography exceptions.

Increase support for land grant universities to augment outreach and support for producers.
Notes:
1
Addressed by Gov. Ige's sixth supplemental proclamation of 4/25/20 amending and restating prior proclamations and executive orders related to the COVID-19 emergency
2
Addressed by Gov. Ige's seventh supplemental proclamation related to the COVID-19 emergency
3
Some initiatives/recommendations may require further appropriations or legislative action